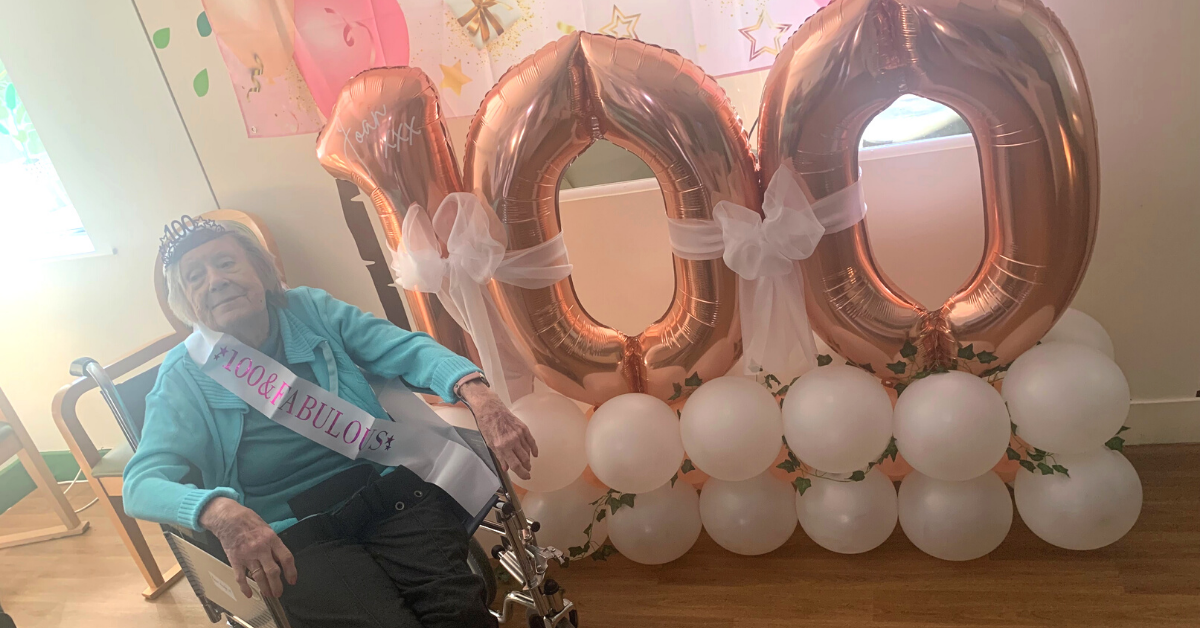 We hope everyone had a lovely Bank Holiday weekend. It's been a celebratory week for us at Borough Care and we can't wait to share our news with you all. 
Without further ado, let's see what our residents and staff got up to this week…
100 trips around the sun
Joan marked her 100th birthday with a party at Bruce Lodge (pictured above). Joan is our second resident to have had a 100th birthday party recently, along with Flo at Bryn Haven (pictured below). Happy birthday, ladies!
Bursting with Pride
A few of our homes had Pride parties over the weekend full of colour, music and treats. Bamford Close enjoyed a delicious cake from Beanie's Bakes as well as cupcakes made by the carers. They also held a drag show that the residents loved. 
Some of Cawood House's residents made sure to get in the spirit of Pride by wearing rainbow leis and temporary tattoos. 
Take a look at our Pride party blog to learn more about our celebrations.
Creature comforts
Many of our residents enjoy the company of animals. This week, Audrey spent some time cuddling Toffee the rabbit at Lisburne Court. 
Nailed it
Little pick-me-ups like haircuts and getting your nails done can have a significant effect on mental health.
Gwen enjoyed getting pampered with a manicure at Lisburne Court.
In bloom
Gardening can be a great tool to improve our staff and residents' wellbeing, so we have multiple gardening projects going on. The positive effects of gardening can be seen through the recent garden party at Wellcroft and the beautiful blooms at Silverdale.

Here are some lovely residents at Bruce Lodge planting flower seeds.
Wedding bells
Congratulations are in order for two of our staff members. Our HR Advisor, Jacqueline Pervical married her partner on the beautiful island of Zante – what a location!
Jade Platt from Silverdale also got married. The team at Silverdale threw her a surprise bridal shower before her big day. 
We wish both Jade and Jaqueline very happy futures with their new spouses. 
Until next time
We hope this week's stories made you smile! Keep an eye out for our next weekly round-up. 
You can also catch our latest news by following Borough Care on Twitter, Instagram and Facebook.