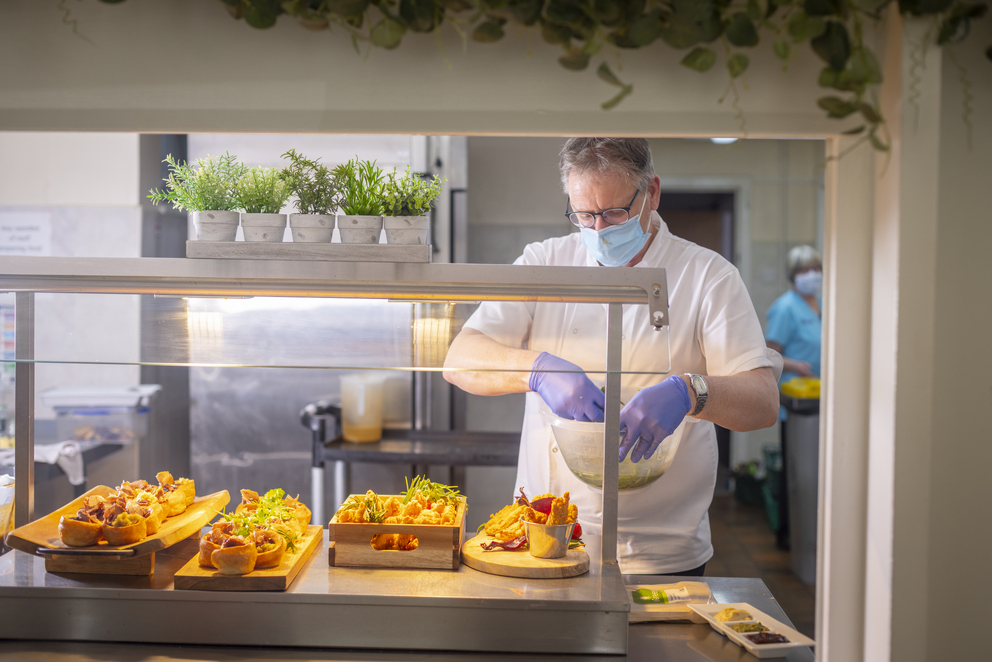 From our cooks and housekeepers to our laundry assistants and carers, everyone at Borough Care makes a big difference. Ensuring that residents have a nutritious and well balanced diet is a crucial part of providing support in our care homes. Food and drink has a direct correlation to their health, well being and fundamentally, their quality of life.
We sat down with our Catering and Hospitality Manager, Tony Gent, to discuss why great quality food is so important at Borough Care, his favourite things about the job and his advice for anyone hoping to land a career working with food in the care sector.
Colour on a Plate
"Borough Care's motto is 'Life in Colour' and within the catering team this shows through innovation and the quality of food provided to our residents. 'Colour on a plate' is a priority, as for many of those in our care, meal times can be the highlight of the day, and something they really look forward to. Our team involves and communicates with residents, which demonstrates that they are living the values set out by Borough Care."
High Standards
"Fresh, high quality food is vital at Borough Care, as it ensures that all catering and hospitality needs are met across the group. This ranges from menu engineering and design, to building a close relationship with residents and colleagues. Establishing a high standard for food hygiene so that standards are met and maintained is very important. My role involves Health & Safety, making sure that all staff are fully compliant with the relevant legislation and carrying out regular audits to ensure that standards of both hygiene and quality of food. I aim to set the highest standard, so I also monitor shortfalls and train staff where the need arises."
Specific Needs
"I am building a team that works towards goals, and I ensure that staff morale is high and motivate the team. The catering team provides a high quality service to residents, making sure that we cater for their specific and individual needs. This could be vegans and vegetarians, those with allergies, and residents who cannot eat independently. Serving food to our residents daily must include freshness and quality at a good price. This is to ensure that we are giving our residents great value for money and using top quality suppliers."
Leading by Example
"My favourite thing about my job is being there for the residents, seeing them smile after a plate of food, or just showing some care. I love to stop and have a chat with them. I love being creative and adding value where possible. As a result, sharing my knowledge with the team also plays a huge part in my day, and of course, leading by example."
Top Tips
"I would say for anyone hoping to work with food in the care sector that you need to be compassionate, creative, detailed-ordinated, flexible and love providing food which is nutritional and eye appealing."
Ready to find a career with Borough Care?  Search our current vacancies, call us on 0161 475 0140 or email recruitment@boroughcare.org.uk.