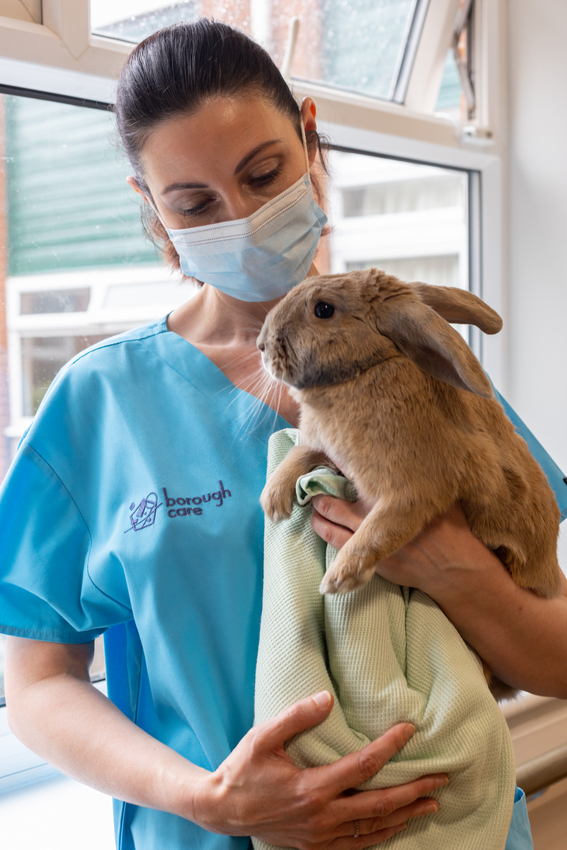 Working in care as an Activities and Lifestyle Facilitator (ALF) – Laura Nelson, Lisburne Court
Laura Nelson is one of our brilliant Activities and Lifestyles Facilitators (ALF) at Lisburne Court. Laura and the rest of the ALFs are responsible for our residents living 'life in colour' through organising an array of fun activities and events. We spoke to Laura about her experience as an ALF at Borough Care.
1. Talk us through a day in the life of an ALF
In a nutshell, ALFs support, entertain and uplift the residents. We get the best out of the residents by listening to their needs and being understanding.
Each month, the ALFs put together an activities calendar to plan the events we put on for the residents. A lot goes into planning events. For example, we have to do risk assessments if we want to take the residents outside. We also have to make sure we have consent for photos. You have to be flexible as things don't always go to plan – sometimes I'll have to swap activities for certain days.
I take photos and send them to Holly, Borough Care's Marketing Manager, so they can go on our social media channels, website and newsletters. I often send photos to families so they can see what their loved ones are up to, and make sure to put loads of photos in the Lisburne Court newsletter I send out. Another way that we keep relatives up-to-date is by holding face-to-face meetings.
2. What led you to start your career in care? Have you always worked in the sector?
When I left school, I looked after people who had learning disabilities for about 3 years. Then I worked as a veterinary nurse. I was drawn to those jobs as I've always been a caring person. When I first came to Borough Care, I saw the activities side of what the ALFs do and thought it would be great for me. As much as I love caring, I wanted to do a bit more. I'm glad I've got previous experience in caring roles, as they've helped me to be a very empathetic ALF.
3. Why Borough Care? Is there anything specific that made you want to work for Borough Care in particular?
I love that Borough Care lives and breathes living 'life in colour'. There's also a lovely support network; my Manager, Hayley, has been so supportive. Hayley always encourages us to bring our ideas forward. I've noticed in care homes outside of Borough Care, that it seems like ALFs are on their own and there's not a lot of help from other staff members. Borough Care helps us to grow in our roles by offering a lot of training and ongoing encouragement.
4. What is the best part of your job?
The best part of my job is interacting with the residents and building relationships with them. I love spending time with the residents, they all have unique personalities! I select two 'Residents of the Day' and spend some dedicated time with them to go through what activities and hobbies they'd like to take part in. That way, I get to know the residents and what they enjoy. I also love to make the residents when they're feeling down. I feel that through my job, I'm making a positive difference in people's lives – it's very rewarding.
5. What advice would you give to someone who's looking to start a career in care?
Someone who's interested in becoming an ALF would have to be good at communication. They'd also have to understand the residents and their needs, be good at listening, and be quite supportive. Being an ALF isn't just planning and organising, it's also being caring and supportive to the residents. Organisation is important because you have to do a fair amount of paperwork, coordinate taking photos (and getting consent for them).
Some of our residents have more difficulties than others, especially those whose dementia is quite severe. I think it's important to treat everybody equally, regardless of whether they have dementia or not – so it's good to be empathetic. If I notice some of the residents are feeling down, I'll think of how we can pick them up (like through a sing-a-long, for example).
There's a lot to do in this role but you do need to take your time. The residents deserve to have people listening to them and offering support.
6. Working as an ALF seems like a really fun and sociable job. What's it like planning events for the homes, is there a lot involved? How do you decide what events to host?
When I plan activities, I make sure there's a variety of events for the residents to look forward to. I listen to what the residents want and do my best to make them happy. Last month, they mentioned they'd like a cowboy theme, so I've included that in the plan! You can get ideas by asking residents what kind of things they enjoyed in the past, what music they like or what their favourite films are.
7. What event has been your favourite to organise so far? Can you talk us through the process of organising it?
One of my favourite events to organise has been the Pride party! We had a drag queen join us and it was really good fun. I was up there dancing with her, we all dressed up and had a good laugh. The weather was nice so we sat in the garden and the residents enjoyed some ice creams. I made some flower crowns with the residents so they could take part in the fancy dress.
There are so many events that stand out to me, like a seaside event where we took the residents out for fish and chips. I'm really looking forward to the Queen's Jubilee and the cowboy-themed day. From magicians to birds of prey, we make sure there's always something fun to look forward to at Lisburne Court.
Careers at Borough Care
Does being an ALF sound like the job for you? If you want to help older people to live life in colour, then we have a variety of rewarding careers across our care homes at Borough Care. To keep an eye on our current job vacancies, follow Borough Care jobs on Twitter and Instagram.