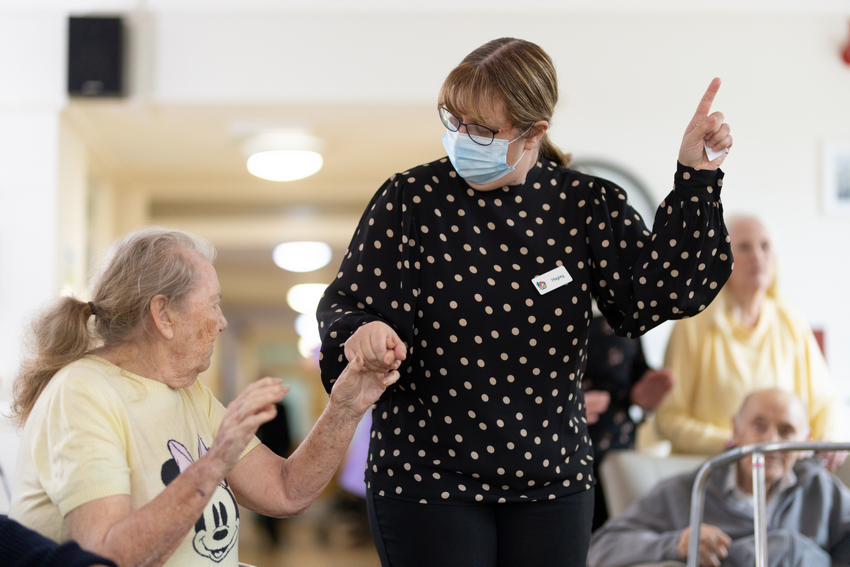 Working in care as a Home Manager – Hayley Weston, Lisburne Court
Hayley Weston, our Home Manager at Lisburne Court, has worked her way up from being a Care Assistant at several of our care homes. We chatted to Hayley about her experience working with Borough Care, her favourite part of working in care and what makes her career so rewarding.
1. Talk us through a day in the life of a Home Manager
I come in early in the morning and speak to the Night Staff, ask them how the night has been and make sure they're okay. I'll then do a handover with the care staff and housekeepers so we're all aware of everything going on in the home. Even though I spend a lot of time in the office, I'm keen to know what's going on so I get out on the floor as much as I can.
When I've checked in with the staff, I'll go to the office and start my paperwork. Some of this includes organising the resident of the day, checking timesheets, sorting out staff inductions and dealing with social workers.
We also do 'tea at three', so at 3pm I'll sit with the residents for some tea and cake. I'll also sit and speak to the resident of the day.
2. What led you to start your career in care? Have you always worked in the sector?
I started my career in care 23 years ago and have since worked my way up from Care Assistant to Home Manager. When I was 16, I did work experience in care and really enjoyed it. I then started at another care home when I was 18 as a Care Assistant. My friend got a job at Bamford Close (Borough Care) and suggested I move there to work with her. So I went and ended up staying at Bamford Close for 17 years. I moved from a Care Assistant role to more senior roles at several homes. I then got transferred to Lisburne Court as the Home Manager and have been here ever since!
3. Why Borough Care? Is there anything specific that made you want to work for Borough Care in particular?
The training that Borough Care provides really stood out to me. I personally didn't like school, I just wanted to work. When I came to Borough Care, I got all of the qualifications I needed. The team has always supported me. If I have an opinion on something, I will raise it with them and they listen. And I can't lie, my pension is fantastic!
4. What is the best part of your job?
I love being involved with the residents so interact with them as much as I can – you can have great banter with them! As a manager, I want the very best for the residents – they're my main priority. Borough Care has been so good with letting us give input on what we want for our residents. It's a very rewarding job.
5. What advice would you give to someone who's looking to start a career in care?
I always find it's important to be bubbly, positive and loving. When I do interviews, I'm not looking for qualifications above all else. If someone comes in and shows a genuine passion for caring, that's what I look for. I want my residents to be well looked after, so I look for someone who can give them what they deserve. A lot of the other skills can be built from experience and training.
6. There must be a lot involved in running your care home. How do you ensure that residents, staff and visitors feel comfortable, welcomed and safe when they visit?
Everybody is involved, we're a close-knit team that always pulls together to make sure people have the best possible experience at Lisburne Court. There was a point where we had a lot of staff absences due to COVID. During that time, a lot of my staff picked up overtime and went the extra mile to ensure things ran smoothly. I think if you take pride in your role, it's felt across the whole team.
You need to have good communication with everyone. If a relative calls us, I need to know how their resident has been so I can give them an update without having to transfer them to someone else. We hold regular relatives meetings and I make sure I'm at the door to greet everyone when they come in.
7. What traits and values do you think help make someone a great home manager?
You have to be a good listener. I make sure that my staff know that my door is always open if they need me. Yes, a lot of the job involves paperwork and organisation, but you still need to have a caring nature and interact with the residents. It's useful that I have experience of being a Care Assistant myself, as I can empathise with my staff and understand what their stressors are.
Work With Us
Interested in a career in care? Borough Care has a variety of roles available across our homes in Stockport and Staffordshire. You can keep up with our latest job vacancies by following Borough Care jobs on Twitter and Instagram.