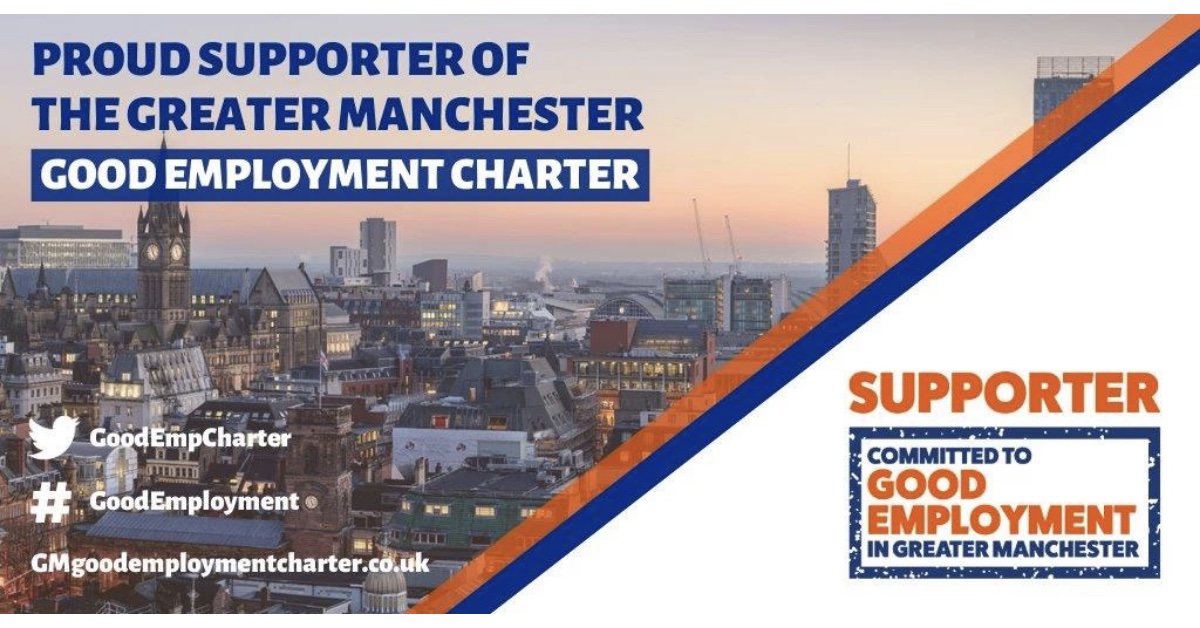 What is the Good Employment Charter?
The Good Employment Charter is a voluntary membership and assessment scheme that aims to improve the standard of employment across Greater Manchester. They believe that people need secure, fulfilling, well-paid work in order to reach their full potential.
""This Good Employment Charter is a major step towards making sure that new and existing jobs right across Greater Manchester are underpinned by a commitment to equality, fair pay, and giving employees a say in how their workplaces are run – securing our city-region as an area of employment excellence"

Andy Burnham

Mayor of Greater Manchester
Borough Care is one of the many organisations across the region that is joining the Good Employment Charter on their mission to give employees happier, more balanced work lives.
What counts as good employment?
The Good Employment Charter has seven key characteristics that they believe make up good employment. These are:
How is Borough Care involved in the Good Employment Charter?
The charter has two tiers of involvement – supporters and members. Borough Care is currently a supporter of the Good Employment Charter, meaning we strive to follow their characteristics for good employment across our organisation.
Here's how Borough Care ensures good employment:
Secure work
All our contracts have complete clarity over roles, responsibilities and hours. We ensure that every employee is on the right contract for them, offering flexible working when needed.
Flexible work
Employees are able to select their shifts from a 'bank' of available ones. They can plan their shifts up to six weeks in advance, allowing them to fit work around their lifestyle.
A real living wage
We ensure our employees are all paid the real living wage which leads to increased employee happiness and wellbeing, as well as staff retention.
Workplace engagement and voice
We make sure our team's voices are heard by:
Holding a staff forum every 12 weeks, allowing people to raise queries and concerns
Having an annual 'meet the board' tour so our staff can meet board members and ask them any questions they may have
Holding WOW! Awards (instant reward and recognition for exemplar behaviour) to celebrate each other's achievements
Having a suggestion box for all employees to feed into changes they would like to see in the workplace
Carrying out pulse surveys every 4 months to track overall engagement
Recruitment
We carry out excellent recruitment practices and progression by:
Making sure all of our recruitment is values-based
Having relationships with all local colleges, allowing us to offer placements for anyone interested in working in care
Advertising roles through a wide range of platforms to ensure that we have diverse candidates (including Stonewall and Gaydio)
Holding annual appraisals that look at staff development
People management
The training we provide always has the needs of our residents at its core. We consistently look at how we can develop the skills of staff, whether they are brand new or have been with us for years. We prioritise making sure our carers are well-equipped with knowledge on how they can give our residents the best possible experience at our homes. Some of the ways we do this are:
All Managers and Deputies are enrolled in an in-house management course called Leadership in Colour that teaches management practices and practical skills
We have focused calendar months dedicated to training topics that are needed across the business such as distressed behaviour and fire safety
We're working towards opening a training academy that ensures all new carers have the skills and behaviours needed to work with our residents
Health and wellbeing
My Hub is an online system where our team receives the latest news and company updates. There are entire pages on My Hub dedicated to wellness, food and health to encourage a healthy workplace. We also hold regular wellness video sessions with our managers.
Get involved in the Good Employment Charter
Do you share the Good Employment Charter's values for a better workforce? Head to their website to learn what you need to do to get involved.
Make sure to follow Borough Care on Twitter, Instagram and Facebook for our latest news and resident updates.