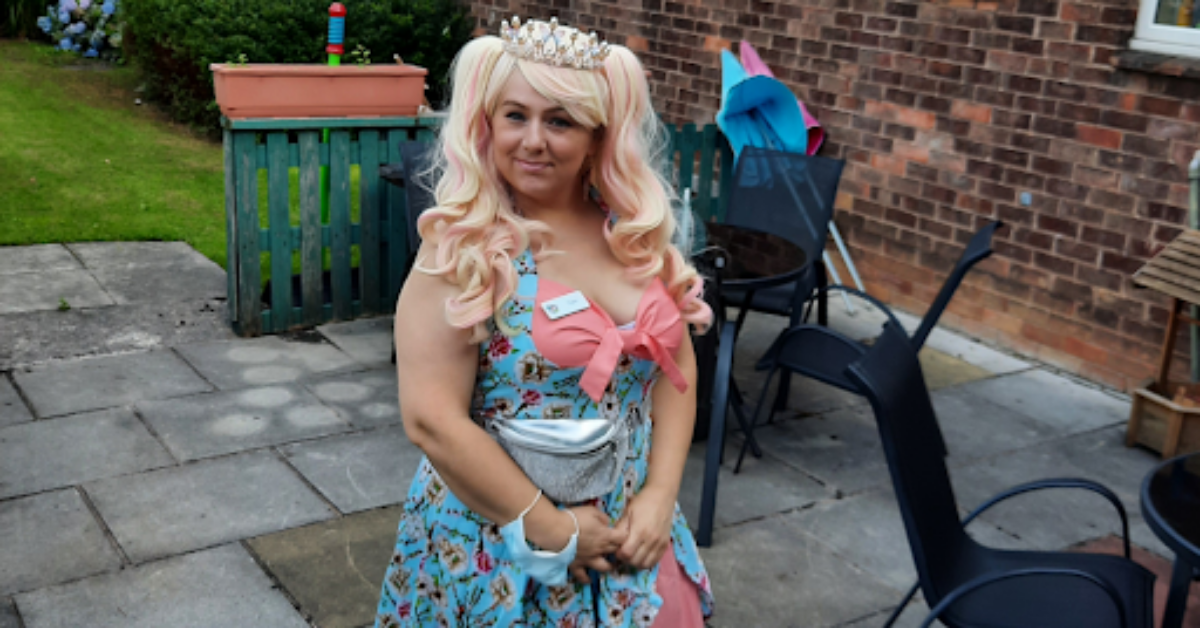 Celebrating the brilliant team that we have across Borough Care is something that we love to do. This month, we're shining the spotlight onto Tara Osborne from Bryn Haven who is our LGBTQ+ Champion. Read on to discover more about Tara's role within Bryn Haven and why she loves being part of the Borough Care family. 
What is your role at Borough care?
I'm a Care Assistant at Bryn Haven. I started as a General Assistant and, before that, I volunteered at the homes. My role involves working closely with the residents and organising activities for them. I do a lot of colouring, dancing and music activities with them. Of course, the general care of the residents is also a large part of my role. It's brilliant to be around them – they're all so different.
How long have you worked for Borough Care?
Since November. I worked as a volunteer before becoming a General Assistant. It wasn't until April that I started as a Care Assistant at Bryn Haven, though. 
What does a day in your life at work look like?
My day is six hours long and will typically involve various day-to-day tasks like getting meals ready for the residents and organising the home. But, despite following the same overall routine, my days are never the same! The residents are what makes my day so fun. 
A large part of my role involves spending time with the residents, which is something that I love doing. Every resident has their own unique personality and will bring something different to each day. At Bryn Haven, we do a lot of different activities with the residents and have even thrown some exciting events too. Recently, we threw a rainbow party which was in celebration of Pride. We invited the residents' families along to celebrate and our catering team put together an amazing feast for the occasion. The residents all loved getting involved in our Pride celebrations!  
As well as our big celebrations, we also like to spend some more relaxed time with the residents. The residents at Bryn Haven all love films and music, so we'll always make sure we've got songs and films on throughout the day. Their current favourites are Free Willy and absolutely anything with animals in it. My personal favourite shows to put on are documentaries as they're great for residents who can't see very well since they're mostly talking-based. 
What did you do before you joined Borough Care? What is your background?
I'm a qualified nursery assistant so, before I joined Borough Care, I did a lot of volunteering in nurseries and schools. I worked in an equestrian centre with disabled riders and also volunteered to help Syrian children with their work.  After this, I moved up to Manchester, where I've been for three years, and started volunteering at Bryn Haven. Borough Care and the Bryn Haven team have always made me feel welcome, and my Manager, Rikky, is brilliant. 
Why did you decide to work for Borough Care?
It was Bryn Haven that drew me in. At first, I wasn't very familiar with Borough Care but I'd walked past Bryn Haven a few times and thought it looked like a brilliant place to work. What stood out to me about Bryn Haven was how pretty the bench outside it was.
What is the best part of your job?
It's definitely seeing the residents so happy. I love seeing them all live their lives how they want. On their good days, they make you want to cry because it's just so lovely to see them so happy! 
The team had a training workshop with the LGBTQ+ charity, Stonewall. What was the experience like? 
The session focused on discussing the LGBTQ+ community as well as pronouns and what they meant to people. We talked about how sharing your pronouns is now a more normalised thing in the workplace and how it's a lot more accepted now. 
We also talked about our plans for the future of the company in terms of representing the LGBTQ+ community more across Borough Care, which included: 
Adding sexuality flags into the boards at all of Borough Cares homes.

We want to make sure that the LGBTQ+ community is represented in all of our homes so we came up with the idea of adding pictures of our staff onto the board along with flags and symbols showing that they're allies to the LGBTQ+ community. We've also decided to introduce ourselves by saying our name and how we identify e.g. my name is Tara and my pronouns are she/her

Painting one of our benches in LGBTQ+ colours

. We

thought that this would be a great way to show that we're allies. That way, anyone who visits will be able to see that we're supportive of the LGBTQ+ community before they even enter the building. 

Creating a booklet that shows what Borough Care staff can do for the LGBTQ+ community.

We want to create a booklet that we can give to staff to help them understand the ways that they can support the LGBTQ+ community. We're thinking of including specific terms and more information about pronouns. The team at Bryn Haven are so inclusive and open-minded so I know that it will be something that everyone will be keen to learn more about. 
We hope you enjoyed learning more about Tara and her role as a Care Assistant at Bryn Haven. To keep up to date with the latest Borough Care news, follow us over on Twitter, Instagram and Facebook.