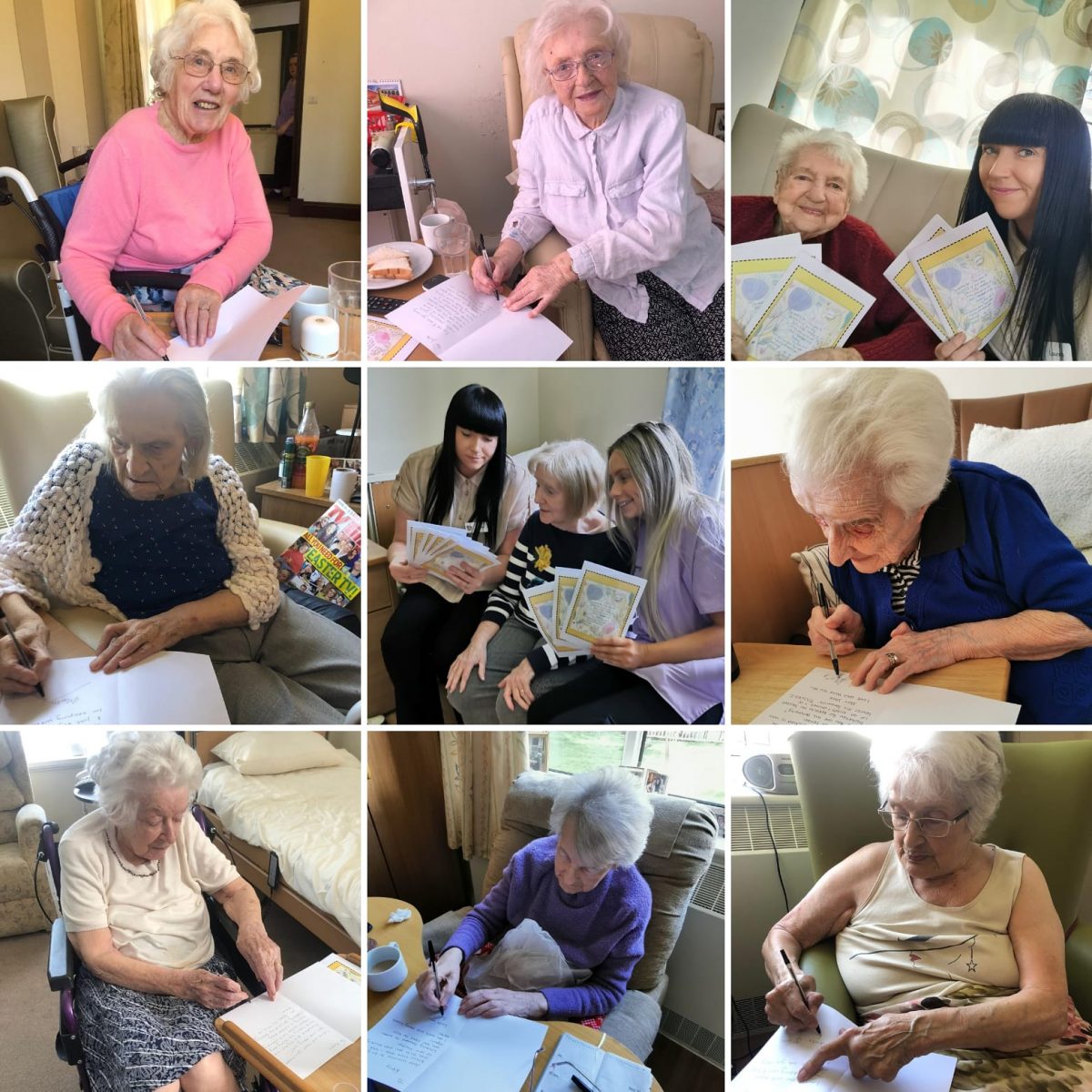 Residents at Reinbek have been creating some very special messages for their family and friends, courtesy of one of our brilliant carers, Lauren Whittaker.
The team at Reinbek have been incredibly busy facilitating Skype, WhatsApp and regular telephone calls to help families stay connected during isolation. But, Senior Carer, Lauren Whittaker had an idea to do something even more personal, that would be a welcome and spirit-lifting surprise for families who are missing their loved ones.
Lauren designed and printed some beautiful cards, that included a special message on the front. Each of the residents then wrote their own note inside before sending them off to delight and comfort their families.
Not one to forget about her colleagues, Lauren also created bags out of old Borough Care uniforms that she filled with bottles of water and treats for every member of staff, as a thank you for their hard work and in recognition of their dedication to residents. The whole team were so grateful and touched!
Home Manager, Fran Riley said: "We are incredibly lucky to have Lauren with us at Reinbek. Her caring nature shines through everything she does, and she is continually going above and beyond her caring duties. Our residents really enjoyed writing the cards for their loved ones, and families have been thrilled to receive them."
Explaining why she decided to create these cards, Senior Carer, Lauren said: "Times are tough on everyone but more so for our residents who have not seen their families since going into precautionary isolation. Yet they have not complained, and their spirits have remained high as they continue to put their trust in us to keep them safe.
I came up with the idea to send the cards to residents' families to let them know that, although they are not able to see them, they are thinking of them, miss them and can't wait to be reunited.
Everyone at Reinbek is proud to be a keyworker, but on Thursday at 8pm we clap for our true heroes… our residents!"
So many of our carers have shown incredible thoughtfulness at this time. Helping families stay connected in creative and imaginative ways. Lauren is a brilliant example of the difference one person can make. Check out our Facebook page for lots more amazing feats from our carers and residents.