For almost 30 years Borough Care has provided the safety and sanctuary of a warm and welcoming home to residents. Borough Care is a champion of older generations and respects the meaningful contribution they continue to make in society. As a not-for-profit
organisation, Borough Care reinvests any surplus money into the services it offers, to serve the best interests of our residents and their families.
Our team is the beating heart of Borough Care. From our cooks and housekeepers to our laundry assistants and carers, everyone makes a big difference to the lives of our residents and their families.
Take a look at six brilliant reasons why you should work with us! 
We Pay the Real Living Wage
In 2021, Borough Care became the country's largest residential care provider to receive a real living wage accreditation from the Real Living Wage Foundation. With the care sector notorious for being underpaid and undervalued, the COVID-19 pandemic highlighted the significance and importance of care workers in society. The real living wage means that Borough Care pays its staff significantly more than the industry average hourly wage for care workers. 
2. We're Part of the Good Employment Charter
Also in 2021, Borough Care joined the Good Employment Charter in their mission to give employees happier, more balanced work lives. The Good Employment Charter is a voluntary membership and assessment scheme that aims to improve the standard of employment across Greater Manchester. Its ethos is that people need secure, fulfilling, well-paid work in order to reach their full potential.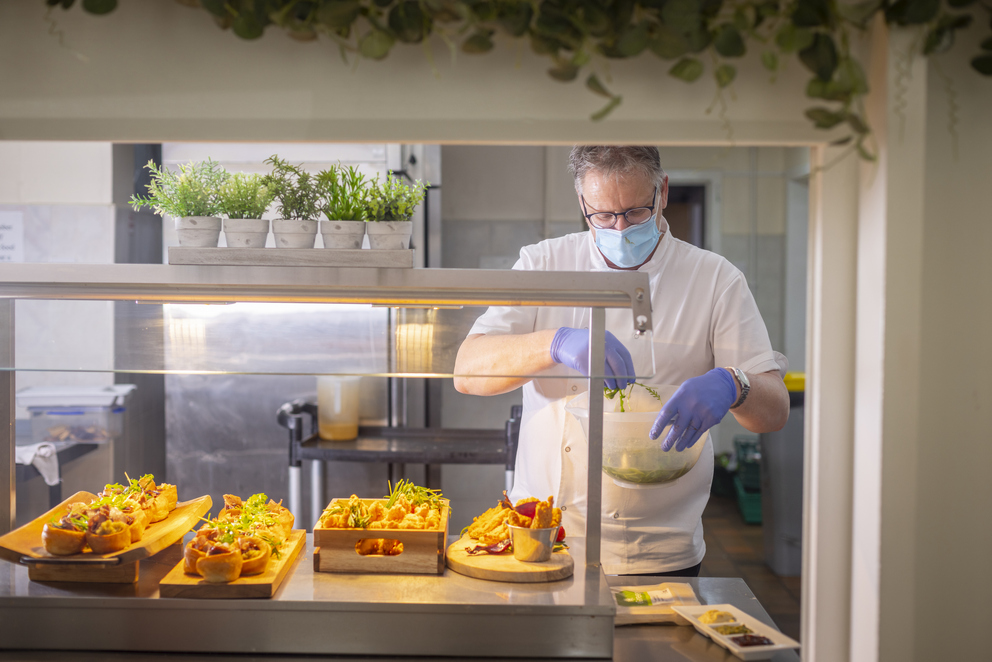 3. We Reward Our Staff
Borough Care is the largest not-for-profit provider of care for older people in Stockport and we provide a range of attractive benefits and incentives to staff through our Reward Gateway. Reward Gateway offers a huge range of high street discounts, which allows employees to save and earn money back on everyday shopping. We also use Reward Gateway links to help staff improve their wellbeing, by providing access to counselling services and financial management advice.
4. We prioritise good mental health and wellbeing
Our Employee Assistance Programme is available free of charge, offering immediate information, answers and advice to a range of workplace and personal issues that affect daily life such as stress, anxiety, debt, relationships or physical health. Our staff are welcomed to contact an EAP and talk to one of our Information Specialists or Counsellors. All counsellors are available 24/7 and professionally qualified and accredited by the British Association for Counselling and Psychotherapy.
5. We Care about our LGBTQ+ Residents and Staff
Borough Care is currently undertaking measures to secure a Pride in Care accreditation. The programme aims to help organisations improve their quality of care and support for older lesbian, gay, bisexual, trans and queer+ people, while challenging any poor practice they may encounter in health and social care provision. 
Borough Care is proud to have partnered with Stonewall, the charity which helps create transformative change in the lives of LGBTQ+ people in the UK. Stonewall is the UK's leading LGBTQ+ rights charity, working towards creating a world where all LGBTQ+ people are free to be themselves and live their lives to the full both in their personal lives and at work.
6. We have 11 Locations to Choose From (with number 12 opening in Stone in Spring!) 
Our 11 care homes across Stockport and Staffordshire are as individual as the people who live in them. Each home is a safe space for our residents to relax, feel safe and belong.  Whether you are fully-trained, have a little experience or are just starting your career in care – all we ask is that you share our passion for helping residents to live their lives to the fullest. Ready to find a career with Borough Care? Search our current vacancies, call us on 0161 475 0140 or email recruitment@boroughcare.org.uk.