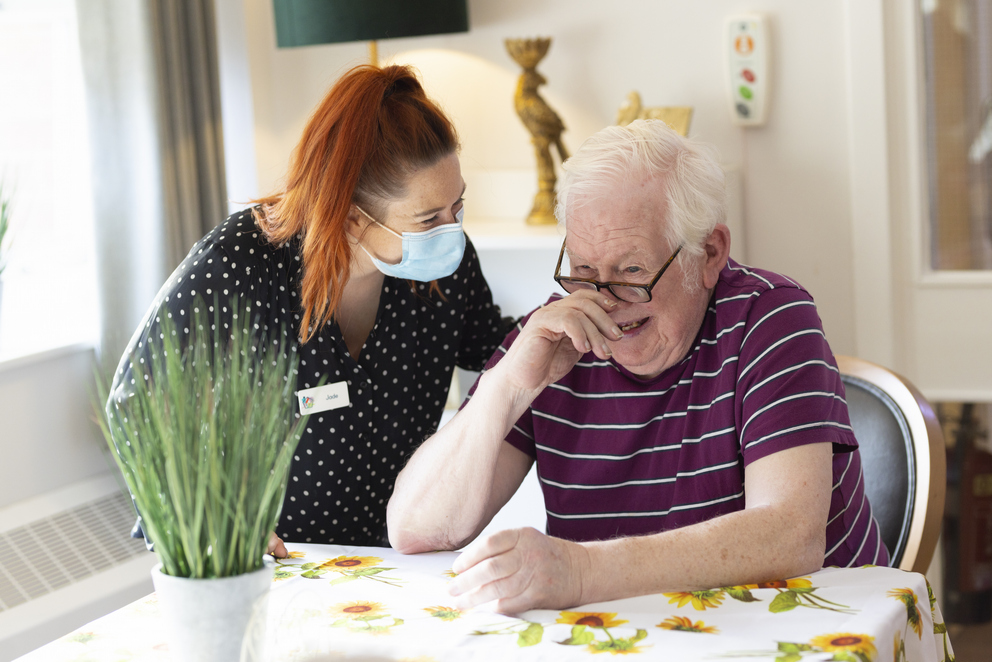 Our Home Managers set the standard for the very best care when it comes to our residents, and are vital in ensuring our homes have the highest standards of décor and furnishings, freshly cooked food, and a programme of daily activities that mean residents can enjoy their lives to the fullest.
Below, we chat to some of our fabulous Home Managers about what they love most about their homes, residents, teams and roles.
Jade from Silverdale in Bredbury, Stockport
Jade has worked at Borough Care since 2010 and has been the Home Manager at Silverdale since 2020. Since she was a baby, Jade has been around a care home environment due to her mum also being a previous Manager for Borough Care. She loved seeing the way staff interacted with the residents and the bond they had. She became passionate about care and that's where her story started. Jade says the team at Silverdale is special 'because no matter the situation they always pull together to make every day the best it can be for our residents', adding 'the team at Silverdale always create new innovative themed days which all the team will join in to ensure residents are living life in colour each day.'
Jade's favourite thing about the residents is that no two days are the same, there is always something to laugh and smile about every single day. She says that visitors to Silverdale should expect a lively, friendly atmosphere with music always playing, welcoming, and happy staff who are always willing to help and go the extra mile.
Lauren from Reinbek, in Bramhall
Lauren has been with Borough Care since October 2012 and has been Home Manager at Reinbek since November 2021. She enjoys working in care because she has so much respect for older generations and has always enjoyed making a difference to people's lives. 'If I can put a smile on our residents' faces, I have achieved something for the day. I want all of our residents to live a happy and fulfilled life whilst at Reinbek,' she said.
According to Lauren, Reinbek is special 'because, together as a team, we can make great things happen. Our team is committed, compassionate and caring. Each person working at Reinbek shows dedication every time they are on shift. We love bringing a family-like atmosphere into the home.' Visitors to Reinbek can expect a warm welcome and a happy atmosphere. The team there wants visitors to feel comfortable within the home and be included in their loved ones care as much as possible. 
Her favourite thing about the residents at Reinbek is listening to their life stories, hearing about the amazing memories they have made throughout their lives. She also has great pride that they have chosen to spend their later years in our care, and says it is a pleasure being part of the rest of their life story. 
Deborah from Bamford Close, in Cale Green
Deborah has been a care home manager for over ten years and has worked at Borough Care since November 2021. She started off as a care assistant 30 years ago and worked her way to senior care, team leader and nurse aid before becoming a manager in 2010. She loves working in care because she likes to make a difference to residents' lives and ensure they are happy and cared for to a high standard, and said she feels fulfilled in her life caring for others.
Visitors to Bamford Close receive a warm welcome and are always treated with respect. She has an open door policy and will always make time to speak to our lovely families about their loved ones and will 'listen to families and friends on anything we can do to improve, as we want to be the best in our field.'
Deborah said 'The team at Bamford Close go above and beyond and really care. They treat our residents with dignity and respect. Our residents are so fun and tell us all sorts of lovely stories about their lives and above all are wonderful to care for. They make us feel that we do make a difference.'
Megan Lachevre from Bruce Lodge Offerton, Stockport 
Megan Lachevre has worked for Borough Care since July 2016. She was a Senior Care Assistant before working her way up to Deputy Manager, and has been the Home Manager at Bruce Lodge since January 2020. Megan likes working in care because she gets to make a difference in somebody's life, and no day is the same!
According to Megan, 'getting to work alongside not just the residents, but families, professionals, and our wonderful care team is fulfilling. It is incredibly heart-warming to watch the interactions between our Care Team and residents on a daily basis. Our team is special because we are a big family, with our main focus being our residents, making their lives the best they can be whilst living at Bruce Lodge.'
Visitors to Bruce Lodge can expect laughter, warmth, and a homely atmosphere. Megan's favourite thing about the residents at Bruce Lodge is hearing their stories, spending time with them and hearing their life history. 'When we are caring for someone, it can be all too easy to forget that they have led a full life and have more to share.'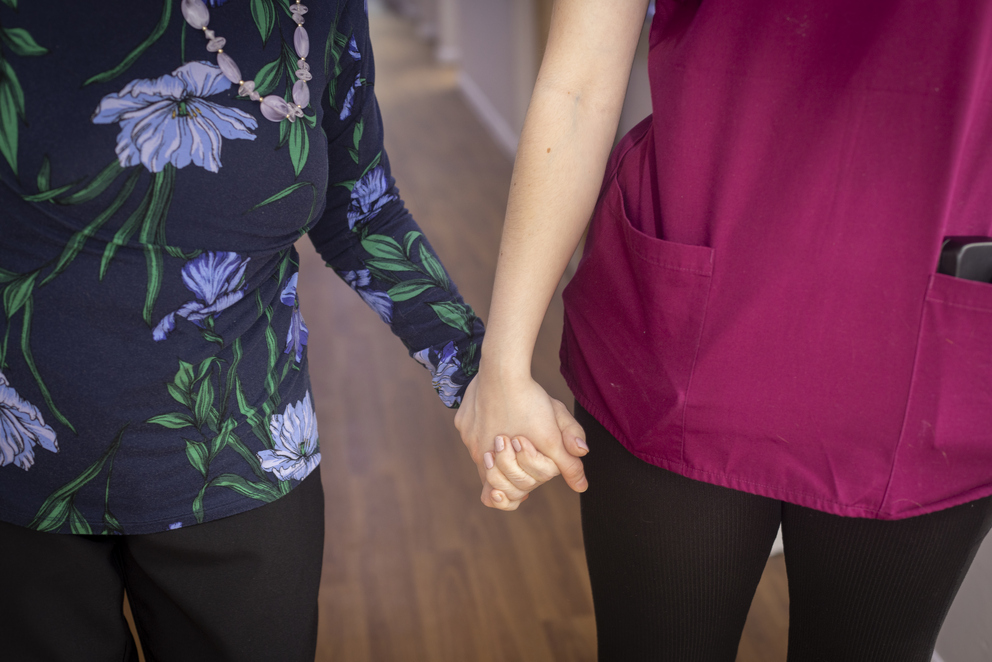 Paul from Hen Cloud House in Leek, Staffordshire
Paul has been with Borough Care since 2020. He has been in the Health and Social Care industry for 42 years working with a number of client groups but mostly working with senior people. He says 'I am passionate about working with senior people and providing a person-centred approach to care.'
Hen Cloud House recently received a fantastic score of 10 out of 10 on carehome.co.uk. Paul said the news was 'fabulous', adding 'this is an amazing achievement for all of the staff team at Hen Cloud House and our wonderful residents and their relatives.' When asked if there was anyone on his team that he'd like to give a special thanks to on the brilliant achievement, Paul said, 'Everyone, as they have all played a part in the success of Hen Cloud House."
When asked what Hen Cloud House is like, Paul remarked, 'It is a brand new, purpose-built luxury building. We are constantly told that Hen Cloud House is like a 5-star hotel! It's the people – all the residents, the staff, relatives and visitors – that make Hen Cloud House such a special place.'
Hayley from Lisburne Court in Offerton
Hayley has worked with Borough Care for over 23 years, beginning her career in 1999 and has been the Home Manager for Lisburne Court since August 2019. She enjoys working in care because she want to make a real difference and ensure our residents have everything they want and need. Hayley says her team is special because they are a fantastic bunch of people. 'They all go above and beyond from doing hair, joining in the activities and ensuring our residents are looked after.'
Her favourite thing about the residents is that no one is the same. She said, 'all our residents are individuals and all have unique qualities. They are fantastic. Lisburne Court is a busy home with lots of activities going on.'
Ready to find a career with Borough Care? Search our current vacancies, call us on 0161 475 0140 or email recruitment@boroughcare.org.uk.