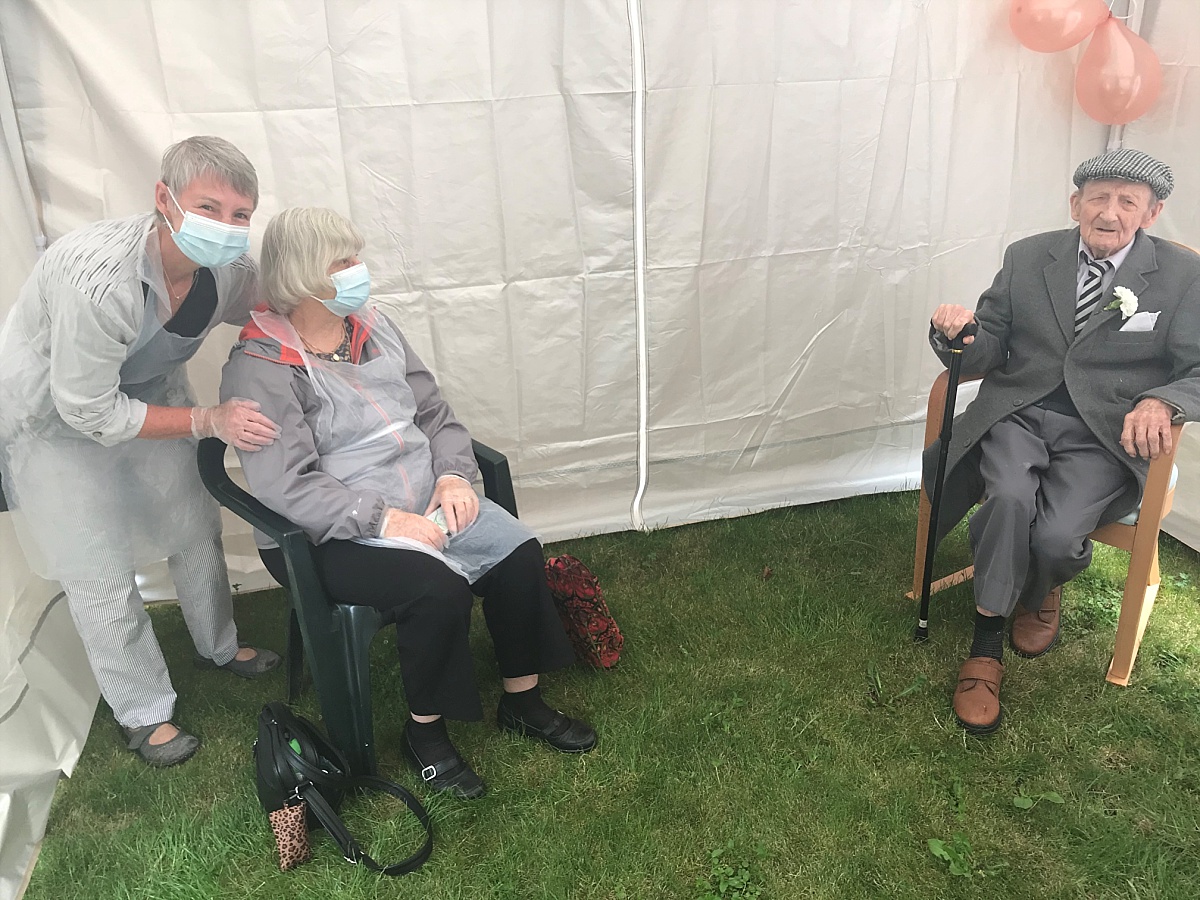 One of the hardest things about lockdown is missing out on celebrating birthdays, anniversaries and other special occasions with our families and friends.
Whilst staff across our care homes have made sure we celebrate all the key milestones with our residents, it was only on June 15th that we were finally able to re-introduce face to face visits with family and friends. Coincidently this was the very same day Silverdale resident James Bell and his wife, Shirley, got married 64 years ago.
We knew how vitally important it was for James and Shirley to be re-united, following three months of lockdown, to celebrate this special occasion.
Our team of carers decorated the visitor gazebo with balloons and pictures of the happy couple; we also helped James purchase a romantic gift of flowers and wine for his wife.
To say the reunion was emotional would be a huge understatement! Our staff, James' and Shirley's family, and the happy couple themselves, were all moved beyond words to be together after all this time.
James, 90, first met his wife Shirley at Sunday School in Onward Hall, Ardwick, Manchester. They married 64 years ago when Shirley was 19 and James was 27. They have two daughters, five grandchildren, five great grandchildren and another due in October this year.
When James was aged 10, he was evacuated during WWII and left his family in Manchester to live in Marple. He moved back home to Manchester when the war ended but always spoke fondly of his time in the Marple countryside.
James has always had an incredible work ethic and was a conscientious employee. He worked for Burton's the Tailors for 25 years and eventually became an Assistant Manager. He then managed a smaller shop in Longsight, Manchester, called Leon's. From there he went to work for the Post Office in the Parcel Delivery Office near Piccadilly station – this was his last job before he retired.
James is very much a 'family man' and he always enjoyed spending time with his children and, subsequently, his grandchildren who all adore him. His hobbies included cycling, walking, gardening and listening to music.
Whilst cycling is no longer possible…he still loves to potter in the garden and listens to brass band music most days, tapping his feet to the music. To celebrate his 90th birthday in September 2019, we arranged for Denton Brass Band to come to Silverdale to play for him, which he thoroughly enjoyed.
Jade Martin, Silverdale Home Manager said: "James' family have been so supportive, and we feel very privileged to have been trusted with this responsibility. James is a wonderful man and an important part of life at Silverdale, we are very lucky to have him and we look forward to seeing much more of Shirley!"
If you would like more information about what life is like for our residents at Silverdale, you can find out more on our website.