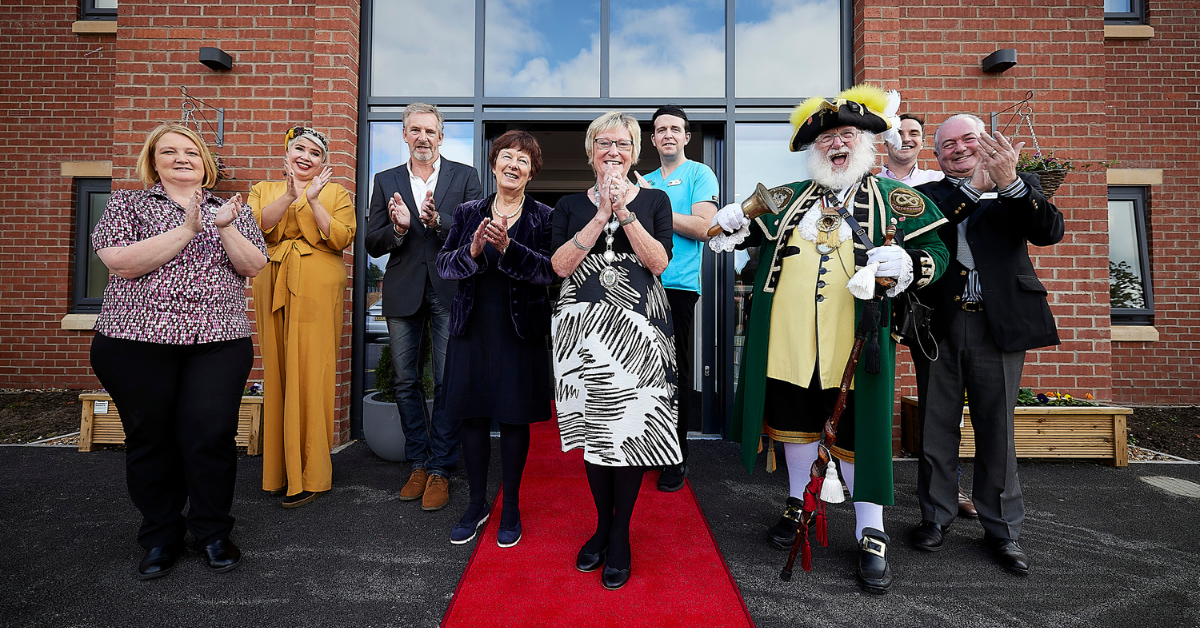 We're so thrilled to announce that we've officially launched our brand new home, Hen Cloud House, a £10 million-pound home that provides full-time, respite and dementia care for older people across Staffordshire. Based on the idyllic site of the former Eaton House, on Buxton Road in Leek, Hen Cloud House is a stunning 66-bedroom care home designed with comfort, luxury and safety in mind. To celebrate the grand opening of the home, we hosted a launch event that brought together incredible people from the local area. Read on to take a peek inside Hen Cloud House and discover how we celebrated its launch in style! 
The main event
The Hen Cloud House opening certainly wasn't short of local stars. Our Chair, Isla Wilson, welcomed our guests to the home before the Leek Town Mayor, Lyn Swindlehurst, did the honours of cutting the ribbon. Mayor Swindlehurst then gave a fabulous speech that highlighted the home's luxury features and just how important it is to meet local needs in the Leek community and the surrounding areas. Staff, guests and residents were then joined by much-loved Town Crier, Bill Lomas, as well as local Councillors Charlotte Atkins and Ben Emery. 

Take a tour
No grand opening is complete without a tour of the building, is it? To celebrate the launch of Hen Cloud House, attendees enjoyed a full tour of the new luxury home by the home's manager, Paul Bradford. Paul took guests on a guided tour of the home's intimate lounges, luxury bedrooms, garden rooms, cinema room, shop and on-site beauty salon. This was a brilliant opportunity for guests to gain an insight into what a day in the life of a Hen Cloud House resident would look like. 
Whether it's starting the day off right with a delicious breakfast in the dining area, enjoying a relaxing pamper-session in the on-site salon, taking in the beautiful surrounding nature or catching up with the latest sports events in the cinema, there's plenty to enjoy at Hen Cloud House. After the tour, guests met up with the residents to enjoy music from a wonderful jazz singer al fresco in the landscaped gardens. 

Enjoy home-cooked food 
Hen Cloud House prides itself on its amazing food that's sure to create a home-from-home experience for residents and guests alike. For the launch of the home, guests and staff enjoyed a wonderful buffet that was cooked by the in-house catering team. After a delicious dinner, it was time to cut open the Hen Cloud House cake. Councillor Charlotte Adkins was given the honour of cutting the cake before staff and residents enjoyed a few slices. 
What makes Hen Cloud House unique 
There are so many features within Hen Cloud House that make it unique as a care home. Our main goal with Hen Cloud House was to create a space that feels like home and enables residents to feel as though they can live their life in colour, no matter what that means to them. Some of the features that we're particularly proud of are: 
Dementia-friendly facilities: Hen Cloud House has been specially designed to have a familiarity to it to help people with dementia to navigate the building with ease. 
Family-focused rooms: Each of the bedrooms within Hen Cloud House are separated into smaller households to create a sense of family in the building. 
Want to find out more? 
If you'd like to learn more about Hen Cloud House, you can take a virtual tour of the home by watching our tour video below or, if you'd prefer, book an in-person visit, by heading to the Hen Cloud House page.