In what has been a very difficult year for so many of us, we thought we would end on a positive note by reflecting on some of our most celebratory moments from 2021.  Join us as we take a look back at the last 365 days to see what our residents, staff members and local organisations have been up to. 
Living Life in Colour
We wanted to take the time to say a thank you to our brilliant ALFs (Activity and Lifestyle Facilitators). As a result of their hard work in 2021, our residents have had the most wonderful year enjoying plenty of exciting activities across our homes. From wedding anniversaries and 100th birthday celebrations to relaxing spa days, our residents truly have been enjoying life in colour this year. Whilst we'd love to share all of our stories with you, we'd be here for all of 2022! So, we've picked out a few moments from the last year that we think represent what living life in colour looks like.

100th birthday celebrations
Birthdays are always a call for celebration at our homes but this year, we had a few extra special birthdays to celebrate. Bruce Lodge celebrated two 100th birthdays for residents Joan and Flo. Both marked their special days with parties in the home, complete with birthday cake, balloons and, of course, plenty of singing and dancing. 

189 years of true love
It's not just birthdays that deserve a celebration. We've also marked some pretty significant wedding anniversaries in 2021. Starting at Wellcroft, residents Susan and Siro enjoyed tea for two to commemorate their 54th wedding anniversary. The Wellcroft team put the whole thing together, creating a special occasion for them both.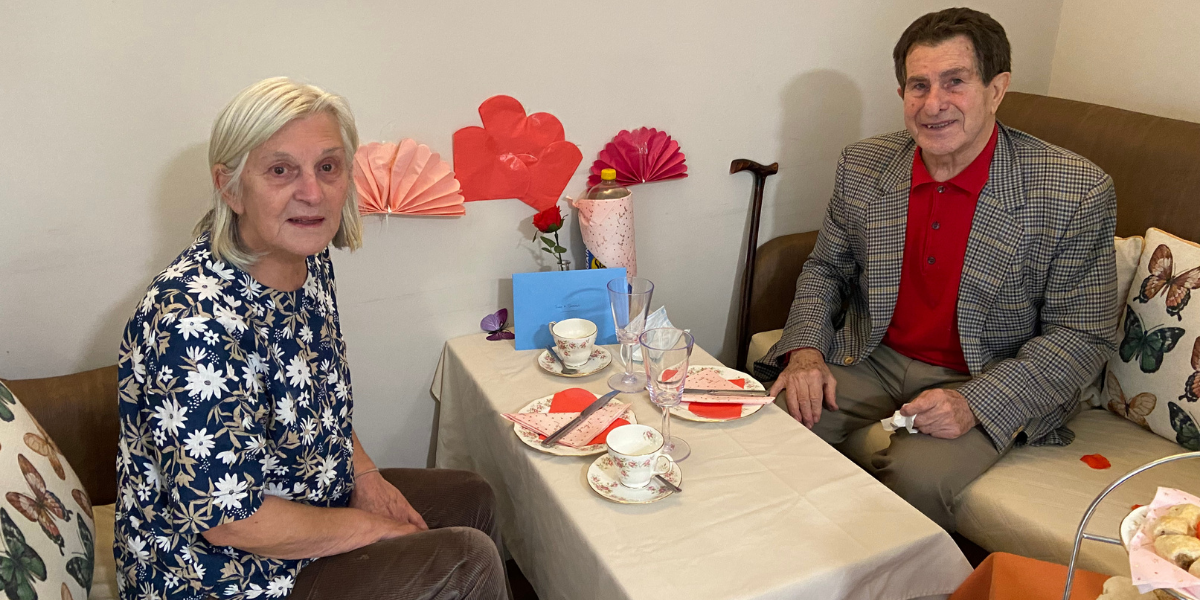 Joe and Beryl, residents at Bruce Lodge, celebrated their 65th wedding anniversary with a beautiful balloon display and plenty of cake! 
At Silverdale, Hilda and Geoff celebrated their 70th wedding anniversary. They enjoyed a visit from their lovely family, as well as a beautiful bouquet of flowers, a bottle of wine, and of course, some delicious cake. The Silverdale team also put together a beautiful slideshow of old photos of them in their younger days. 
Showing that we care
Whilst our aim is always to provide the most outstanding care in all of our homes, a significant part of Borough Care is caring for causes outside of our organisation. We're so proud to be able to support charities and organisations such as the Alzheimer's Society and Stonewall. In 2021, we've continued to support them both by hosting events and fundraising to help them in any way that we can.
Fundraising for the Alzheimer's Society
The Alzheimer's Society is the UK's leading dementia charity that's on a mission to support those living with dementia. Through campaigns for change and research into finding a cure, the Alzheimer's Society is leading the fight against dementia. As a dementia-friendly organisation, designed to assist those living with the disease, Borough Care is a proud supporter of the brilliant work that the Alzheimer's Society does. Here are some of the ways that we've shown our support for the organisation this year. 

Memory Walk
As part of its fundraising, the Alzheimer's Society organises communal walks around the whole of the UK. In October, the Lisburne Court team were involved in the 2.5km Memory Walk at Heaton Park, Manchester. Dressed for the occasion, the team gathered together to march their way through the park, all in honour of a great cause. If you'd like to show your support for the Alzheimer's Society, get involved in the next walking event in Manchester.  
Elf Day 
Throughout the festive season, our homes joined in with Elf Day. Set up by the Alzheimer's Society, Elf Day creates the chance to embrace your inner elf, dress up and spread some festive cheer, all for a brilliant cause. As part of the Elf Day celebrations, Cawood House organised an entirely elf-themed day fit with; an elf hunt, elf-themed crafts, elf-ternoon tea and a screening of the iconic Christmas film, Elf. Bruce Lodge also joined the fun ​​by dressing up in festive costumes and creating seasonal crafts. The events were such a huge success and resulted in the teams raising £160 – exceeding their £100 target! 

Pride parties in support of Stonewall
Stonewall is the UK's leading LGBTQ+ rights charity, working towards creating a world where all LGBTQ+ people are free to be themselves and live their lives to the full. Over the last 30 years, Stonewall has helped to drive positive change and ensure that the LGBTQ+ community is heard and empowered. 
At Borough Care, we are very proud supporters of the LGBTQ+ community. Being an ally to the community is more than just the occasional social media post, or swapping our logo during Pride month. To us, ensuring that we're actively celebrating and empowering the LGBTQ+ community is what will make the real difference. This year, to show our allyship, we celebrated Pride with a series of parties across all of our homes. Bamford Close enjoyed a drag show, Wellcroft sat down to a live music performance, and Cawood House had a sing-along with some karaoke. We loved seeing so many residents and staff members come together to mark Pride month.  

Celebrating our Staff 
Our staff are at the heart of what we do here at Borough Care. Without them, we wouldn't be able to provide the necessary care to our residents and help them to live their lives in colour. Delivering great care is so important to us, but it's also important that we take the time to check in with our team and ensure that they feel supported by us. Let's take a look at some of the ways that we've assisted our staff this year. 
The Real Living Wage
One of the key ways that we help to support our staff from the beginning is by offering all Borough Care team members the Real Living Wage. This is a wage that takes into account the cost of living in the UK, £9.90 for those outside of London, and £11.05 in London. According to the Living Wage Foundation, over 3.5 million people are in low paid, insecure work, which results in a lack of home security, freedom and increased stress. By offering our employees the Real Living Wage, basic living costs are no longer a worry, health and wellbeing will improve and they can enjoy an overall higher quality of life. Learn more about the benefits of the Real Living Wage. 

Staff rewards
As well as a fair wage, our staff have also enjoyed a number of exclusive rewards this year. To say thank you to our wonderful team, we offer company discounts at some of our favourite high street and online retailers. Through our online reward system, MyHub, staff have enjoyed making the most of offers on dining experiences, groceries, home and garden furniture and much more.  
Training opportunities
We're proud to offer all of our staff specialist training to help them excel in their roles. Whether you're fully trained, have some specific skills or are completely new to working in care, we're happy to help you build up your skills on the job. All we ask is that you have a positive attitude and a passion for helping others. In 2021, we've offered each of our staff training that's unique to their needs to help them work their way up in their roles – we can't wait to do the same next year.  
WOW Awards
Rounding off our staff celebrations would have to be the WOW Awards. This December, we hosted the staff WOW Awards which celebrate some of the great work that our team has done over the past 12 months. Whether a team member has gone above and beyond to help a resident, excelled within their role, or simply brought a smile to someone's face this year, the WOW Awards recognise it all. Here are just a few of the awards that we celebrated at this year's ceremony:
Care Home of the Year

Team of the Year

Outstanding Contribution to Care

Workforce Development 

Opening a brand new home 
We couldn't forget about our brand new home, could we? Amongst all the resident and staff excitement, we also celebrated the grand opening of our brand new care home in Leek, Hen Cloud House. The 66-bed care home is our largest and most luxurious home to date, complete with an on-site salon, cinema room, tuck shop, stunning gardens and much more. 
To mark the very special occasion, we hosted a grand opening event – which certainly wasn't short of local celebrities. Leek Town Mayor, Lyn Swindlehurst, joined us in doing the honours of cutting the ribbon, before leading a wonderful speech about the opening of the home. Much-loved Town Crier, Bill Lomas came along to check out the venue alongside local Councillors Charlotte Atkins and Ben Emery as well. It was a truly spectacular celebration that brought together the local community of Leek.

Looking ahead to 2022
The end of the year may be a time for reflection, but it's also a chance to look forward to the year ahead. As we move towards the New Year, there's plenty to be excited about in 2022 – starting with our brand new home which will be opening in Stone. The beautiful new home will put high-quality care at its forefront, along with luxury decor, freshly cooked food and a programme of daily activities. We're looking forward to welcoming residents to the home very soon. We're also excited to have many more opportunities to continue to support brilliant causes and organisations, like Stonewall and the Alzheimer's Society, across our homes.  

Until next year
We hope you enjoyed coming along with us as we reflected on the last 365 days at Borough Care. We'd love for you to share your favourite moments from the last year with us. Come and talk to us on Twitter, Facebook, Instagram and LinkedIn.